Germany is considered the capital of mulled wine. Every year, approx. 50 million litres of this beverage is consumed there, thus it is a very important part of the German wine market. In German-speaking countries, the consumption of mulled wine remains inextricably linked to numerous Christmas fairs. As research shows, it is not the purchase of gifts that is the main purpose of visitors – 59% of people declare that they participate in them because of the food and drinks that they can consume there. Mulled wine is the main one.
Rynki Alkoholowe 1/2019
Grzaniec Galicyjski, which last year was taken over by Jantoń with also Zbójeckie Grzane in its portfolio, remains the most popular brand for many years – making it the segment leader. In December 2017, it was responsible for nearly 78% of value shares in small-format stores, and its products were available in 80% of stores selling mulled wines. Other important players were Bartex and Mix (achieved 8 and 6% of value shares respectively in the mulled wine market in the analyzed period and the distribution of both of them was definitely narrower – not exceeding 20%). Meads are increasingly popular in Poland. The sold volume of this segment increased by 4% in small format stores in 2017, compared to the same period of the previous year. Approx. 10% of stores selling alcohol in December 2017 had mead on offer, and on average, there were 3 variants of the drink per store. At that time, the customers of small-format stores who wanted to buy this alcohol, mostly put Piastowski trojniak 750 ml of Apis in their baskets (appeared on 14% of transactions with this category) and mead Kurpiowski trojniak 750 ml (appeared on every seventh receipt with the category in question).
Rynki Alkoholowe 1/2019
The results of the analysis of the recognition of mulled wine brands indicate that, in previous years, Grzaniec Galicyjski is a decisive leader among them and as its popularity is growing every year. It is recognized by 40% of consumers in the aided recall. However, almost every fifth respondent can indicate it in the unaided recall, where a respondent names a known brand. The Zbójeckie Grzane brand was in the second position, the popularity of which increased also last year. This wine is recognized by every fourth respondent. However, only 8% of consumers can spontaneously indicate them. Two brands of mulled wine ex aequo are third in brand recognition: Grzane Mnicha and Grzane Staropolskie, which is indicted by more or less every fifth consumer in aided recall. However, spontaneous knowledge of these brands constitue just a few percentage points.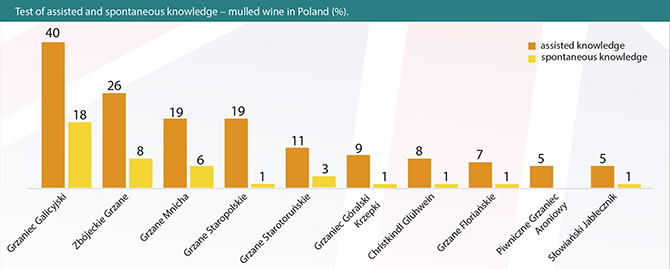 Rynki Alkoholowe 1/2019
The sale of the bubbly alcoholic beverages in small-format stores is highly concentrated. Ambra (owner of Dorato, Piccolo, Cin&cin or MichelAngelo brands) is the leader in the sale of sparkling wines in small-sized stores, which in 2017, holds nearly 1/3 of the value shares. Other important players in terms of value generated at that time were: Henkell&Co (e.g. Sowietskoje Igristoje, Raffaello and Mionetto Prosecco) and Bartex (e.g Bajkał Igristoje, Mogen David and Jantarskoje Igristoje) – both accounted for about 10% and 9% of the category turnover respectively. Bacardi Martini, the share of which in the sales value was over 6%, has lost its importance.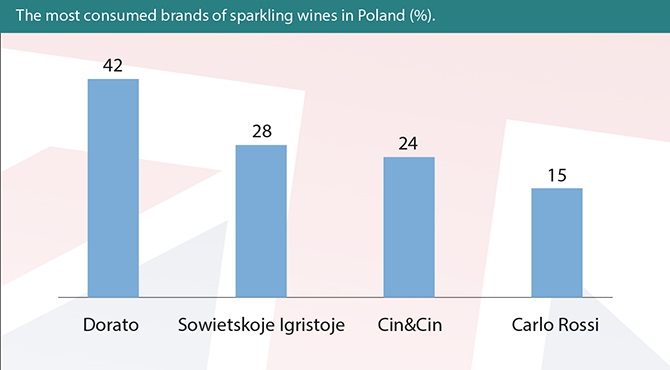 Rynki Alkoholowe 12/2018
According to the latest CBM Indicator research results, the two main sparkling wine brands indicated by the respondents are Cin&Cin, which obtained 19% of indications in the unaided recall, and 52% in the aided recall and Dorato with the result of 17% in the unaided recall and 51% in the aided recall. A high score in the unaided recall was also achieved by Sowietskoje Igristoje brand with a score of 17%, and 39% in the aided recall. Carlo Rossi also boasts a good result in the aided recall, with a 44% score. Interestingly, this wine received only 1% of indications in the unaided recall.
Rynki Alkoholowe 12/2018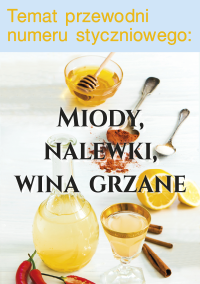 ---