Poles still know little about the difference between sparkling wine and champagne – according to the next round of CBM Indicator survey. Almost every sparkling wine, if made naturally, is in fact champagne, but only a few sparkling wines can be named as such. This obvious difference for experts is still unclear to an average Pole. The immense popularity of sparkling wines has made the word "champagne" the most widely used term for any fizzy wine. Sparkling wines and champagnes have an established position on our market. This is confirmed by the results of the unaided recall. According to the latest results of CBM Indicator survey, just like in the past years, 4 brands of sparkling wines prevail in the consciousness of Poles: Cic&Cin, Dorato, Carlo Rossi and Sowietskoje Igristoje.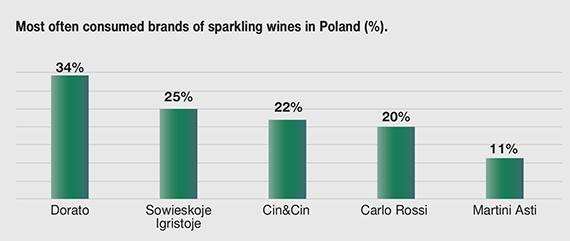 Rynki Alkoholowe 12/2019
Sales of sparkling wines and champagnes in small-format stores are highly concentrated. The leader in sales is unchangably Ambra (owner of Dorato, Piccolo, Cin&Cin and MichelAngelo brands), which in 2018, acquired almost 1/3 of the shares. Other important players in terms of value generated at that time were Henkell & Co. (now Henkell Freixenet) – among other Sowietskoje Igristoje, Raffaello and Mionetto Prosecco, and also Bartex (among other Bajkał Igristoje, Mogen David and Jantarskoje Igristoje) – both accounted for, respectively, approximately 11% and 10% of the category's turnover. Bacardi Martini, the shares of which in the sales value amounted to over 7%, has gained in importance.
Rynki Alkoholowe 12/2019
It was here that visitors could taste, for the first time, Ice Wine from Romania, the unusual Amarone, unknown (on the Polish market) Serbian wines or choose from among French wines from the Loire Valley. This year's edition of the international fair Wine Expo Poland welcomed over 80 exhibitors from 14 countries of Europe and South Africa, who presented their flagship wines and novelties not available in the general sales. Producers, importers and distributors established and developed business relations. Several hundred visitors participated in seminars, wine tastings, learning about their history and new flavours as well as gaining new knowledge.
Rynki Alkoholowe 11/2019
Table wines in the entire year 2018 accounted for 50% of the turnover of all wines in small format stores. Dessert wine had a positive impact on the development of the wine category in 2018, which now competes with table wine and takes away its market share. Table wine sales in small format stores are highly fragmented. The majority of shares are held by 3 key producers since 2014. The sales leader is CEDC, the owner of the Carlo Rossi brand, which in 2018 associated nearly 18% of shares in the value of table wine sales. In December 2018, 4 out of 5 small format stores selling table wines had wines of this company in their offer. Slightly lower distribution was achieved by Ambra and Bartex. In the last 12 months, the latter two producers reached, respectively, 10% and 7% of the value shares in the table wine market.
Rynki Alkoholowe 11/2019
The latest results of the survey conducted by CBM Indicator show that Poles like to drink wine. Among the respondents declaring wine consumption in the last 12 months, 76% chose sweet and semi-sweet wines, while exactly half of the respondents chose dry and semi-dry wines. The survey shows that herbal wines are the least popular among wine enthusiasts. Carlo Rossi has been the most recognizable brand among sweet and semi-sweet wines for many years. It has been the dominant and most popular wine brand for several years. As shown by the results of the knowledge test of sweet and semi-sweet wine brands, Carlo Rossi was spontaneously indicated by 23% of consumers, and over 50% of respondents indicated this brand in the assisted recall. The second position is occupied by Kadarka, spontaneously indicated by every fifth person.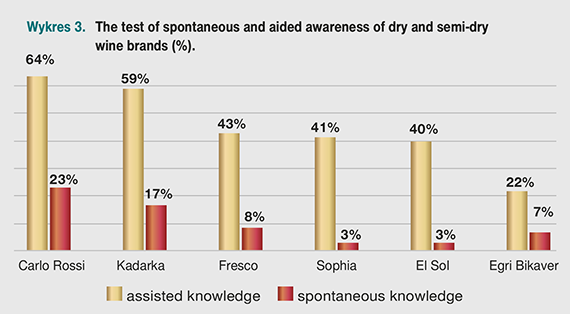 Rynki Alkoholowe 11/2019