A detailed analysis of the results of the latest survey conducted recurrently by CBM Indicator indicates that the most popular brand among liqueurs and creams in Poland include: Advocaat Classic (10%), but also Advoccat Krupnik (10%). The others that have received more than 5% of the indications are: Baileys (8%), Sheridan's (7%), Amaretto (7%) and Beherovka (6%). Interestingly, respondents most often recommend the Krupnik Advocaat brand (12%), while Advocaat Classic is recommended by 9% of respondents.

Rynki Alkoholowe 3/2020
The first edition of the Rynki Alkoholowe monthly appeared exactly in March 1995. It is not only the oldest Polish magazine devoted to the spirits industry in a broad sense, but also a repository of knowledge and a chronicle of changes taking place in it. The first issue had 32 pages and was published in a circulation of 15 thousand.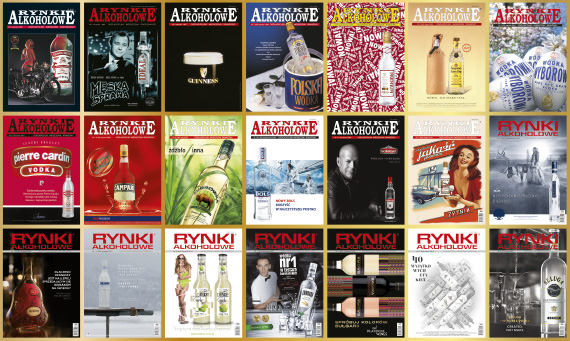 Rynki Alkoholowe 3/2020
The 14th edition of the Vodka Tasting organized by the countrywide "Rynki Alkoholowe" spirits industry monthly will take place in Toruń on Friday, May 22nd, 2020. Once again, professional as well as independent jurors will conduct blind evaluation of the submitted samples in the category of pure vodkas and in the category of flavoured vodkas and flavoured spirit products. The appearance, aroma and, above all, the flavour of a product is what matters. The winners will be awarded with medals. The editorial office of the "Rynki Alkoholowe" Monthly has been organizing the Vodka Tasting since 2006. It is the first cyclical and independent event of this kind taking place in our country. Flavoured vodkas and flavoured spirit products are also evaluated since 2014. During the Tasting in 2019, the jury proposed that the medal should also be awarded for the packaging design. We supported this idea and it is now included in the competition rules for 2020. Of course, the winner is not "blindly" chosen here. The jury will evaluate all the products submitted for packaging after the results of the tasting itself are announced.
For more information about this year's event please contact Lidia Potwardowska (Phone No 607 842 864, e-mail: Ten adres pocztowy jest chroniony przed spamowaniem. Aby go zobaczyć, konieczne jest włączenie w przeglądarce obsługi JavaScript.).
Rynki Alkoholowe 2/2020
According to CMR data, vodka accounts for nearly 9% of the value turnover in small-format stores up to 300 sqm. Pure vodkas represent nearly 75% of the value share in vodka sales and 6% of the total sales in small-format stores. Sales of vodkas with an alcohol content of at least 40% have recently decreased in favour of vodkas with slightly lower alcohol content. It should be stressed that the share of sales of flavoured vodkas is increasing. They account for approximately 3% of the sales value in small-format stores, with the largest volume sold up to 200 ml. The volume of 500 ml is only about 25% of the sales value of flavoured vodkas.
Rynki Alkoholowe 2/2020
CBM Indicator studies confirm that vodkas belong to a category that is very well recognized. Vodkas are also the most recognizable beverages among the Polish society. In the unaided recall, Finlandia came first. It is indicated by more than 1/3 of the respondents. Other very often indicated vodka brands in the unaided recall also included: Wyborowa (34%), Żubrówka (33%), Bols (32%) and Soplica (31%). Small differences in percentage points among the most popular brands can be observed in the aided recall. The highest score was given to the Soplica brand, followed by Finlandia. Both brands received more than 70% of the indications. Krupnik was in third place with 69%. The most frequently indicated brand of flavoured vodkas in the unaided recall is Soplica with over 40% of indications. It is also the brand that has achieved the highest score in the aided recall – nearly 60%. Respondents consuming pure vodkas declared that they most often reach for Finlandia (27%). In the case of flavoured vodkas, Soplica (26%) and Finlandia (22%) are the most frequently consumed brands.

Rynki Alkoholowe 2/2020