CBM Indicator studies confirm that vodkas belong to a category that is very well recognized. Vodkas are also the most recognizable beverages among the Polish society. In the unaided recall, Finlandia came first. It is indicated by more than 1/3 of the respondents. Other very often indicated vodka brands in the unaided recall also included: Wyborowa (34%), Żubrówka (33%), Bols (32%) and Soplica (31%). Small differences in percentage points among the most popular brands can be observed in the aided recall. The highest score was given to the Soplica brand, followed by Finlandia. Both brands received more than 70% of the indications. Krupnik was in third place with 69%. The most frequently indicated brand of flavoured vodkas in the unaided recall is Soplica with over 40% of indications. It is also the brand that has achieved the highest score in the aided recall – nearly 60%. Respondents consuming pure vodkas declared that they most often reach for Finlandia (27%). In the case of flavoured vodkas, Soplica (26%) and Finlandia (22%) are the most frequently consumed brands.

Rynki Alkoholowe 2/2020
The excise tax on alcohol in Poland has increased by 10% since 1 January 2020. The amendment provides for the excise duty indexation to excise commodities that are used as stimulants, i.e.: ethyl alcohol, beer, wine, fermented beverages, intermediate products, tobacco products, dried tobacco and innovative products. The government justifies the excise tax rise by 10% by the rising costs of counteracting the social and health effects of alcoholic beverages and tobacco consumption. The excise tax rise itself is supposed to be safe and not to increase the risk of the informal economy growth. Cider and perry with more than 5% alcohol content are excluded from the excise tax indexation. These products will remain subject to a preferential excise tax of 97 PLN per 1 hl of finished product. Thanks to the excise tax rise, the budget is to gain about PLN 1.7 billion in 2020, of which PLN 552.9 million will come from the rise in alcoholic beverages.
Rynki Alkoholowe 1/2020
More than half of Poles (56%) declare that they drink alcohol occasionally, less than one in ten respondents consume it frequently (8%), and one in three avoids the opportunity to drink alcohol or refuses to consume it at all (34%). Alcohol is most often consumed by respondents aged 25-34: only 7% of them are non-drinkers, 65% reach for alcohol occasionally, and 9% – often. The highest percentage of women drinking is in the 25-34 age group (93%) and the lowest among women aged 65 and over (63%). Meanwhile, men in the age of 45-54 (99%) are among those that most frequently consume alcohol and men over 65 (83%) least frequently.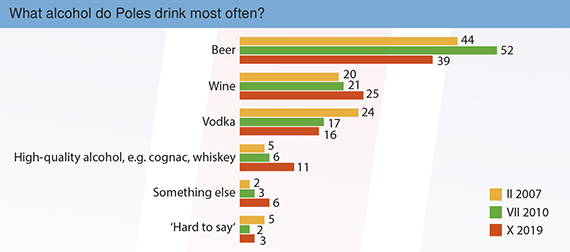 Rynki Alkoholowe 1/2020
The category of mulled wines, as every year, is opened by the undisputed leader – Grzaniec Galicyjski. The brand has been ahead of its competition for years, becoming a synonym for mulled wine in Poland. The respondents when asked to list the mulled wines, mentioned Grzaniec Galicyjski as first, which proves that the brand is strongly rooted in consumers' awareness. Among meads, the best recognizable brand is Grzany Polski Trójniak, which was indicated by 18% of consumers consuming and buying meads. The Półtorak Lubelski brand (17%) was second, followed by Kasztelański Trójniak.
Rynki Alkoholowe 1/2020
Sales of mulled wine are highly concentrated. The most popular brand for years remains Grzaniec Galicyjski from JNT Group (formerly Jantoń), which also has Zbójeckie Grzane in its offer. This makes the producer the leader in the mulled wine segment. In December 2018, it was responsible for nearly 75% of the value shares in small-format shops, and its products were available in 80% of stores selling mulled wine. Other important players here were Mix and Bartex-Bartol. Consumers in 2018 were less likely to reach for meads. Customers of small-format stores up to 300 m2, where they bought this type of beverage, mostly chose mead Kurpiowski 16% dwójniak 750 ml from Apis (it appeared on 16% of transactions with this category) and mead Piastowski 13% trójniak 750 ml (also Apis).
Rynki Alkoholowe 1/2020