Sparkling wines and champagnes are quite important for the entire wine category. In 2020, in small-format stores of up to 300 m2, sparkling wines accounted for 12% of the turnover generated from the sale of all wines. The leader in the sale of sparkling wines in small-format stores is invariably Ambra (the owner of the Dorato, Piccolo, Cin&cin and MichelAngelo brands) – with nearly 1/3 of the value share in 2020. Other important players in terms of value generated in this period were Bacardi Martini (e.g., Martini) and Henkell Freixenet (e.g., Sovetskoye Igristoje, Mionetto Prosecco, and Raffaello) – both generated around 13% and 11% of the category's turnover respectively.
Rynki Alkoholowe 12/2021
Table wines indivisibly win the tastes of Polish consumers (as much as 64% of the total volume), but they increasingly opt for sparkling wines and champagnes (17%). At the same time, retailers understand the progressive change in preferences as the number of stores where these alcoholic beverages were unavailable just a year ago has decreased by 25%. In addition, the average product range for this category has been extended and customers can now choose from 6 variants. Nevertheless, table wines still take the lion's share of shelf space accounting for two-thirds of the wine on display (22 variants). Poles usually buy 1 bottle of wine per transaction and spend about PLN 20 on it. Products from the Carlo Rossi, Fresco or Kadarka brands are most common in the basket.
Rynki Alkoholowe 11/2021
The CBM Indicator survey shows that table wines are most popular in Poland. The importance of sweet wines (including semi-sweet) has not changed over the decades.They are consumed more commonly than dry (including semi-dry), and as a result their brands are also better identified by consumers. Carlo Rossi is the undisputed leader of wine brand awareness tests in Poland. In the latest edition of the survey, it was the most mentioned product in both categories.Another brand well known to consumers is Kadarka, which, like Carlo Rossi, appears in both sweet and dry wine categories. The impact of COVID-19 on wine consumption is noticeable. For about 20%, the pandemic has become a reason to reduce consumption of this beverage, while every seventh Polish citizen drinks more wine than before the pandemic.

Rynki Alkoholowe 11/2021
Packaging design appeal is more important to consumers of pure vodkas. The role of packaging in the consumer decision-making process is growing every year. Consumers of pure vodkas pay most attention to the packaging's attractiveness Out of the vodka drinkers, 73% decide to choose a brand inspired by this factor. In the case of flavoured vodkas, the percentage of indications is visibly lower (59%). Consumers of this type of alcohol are primarily guided by flavour and quality, while packaging determines the purchase to a slightly lesser extent.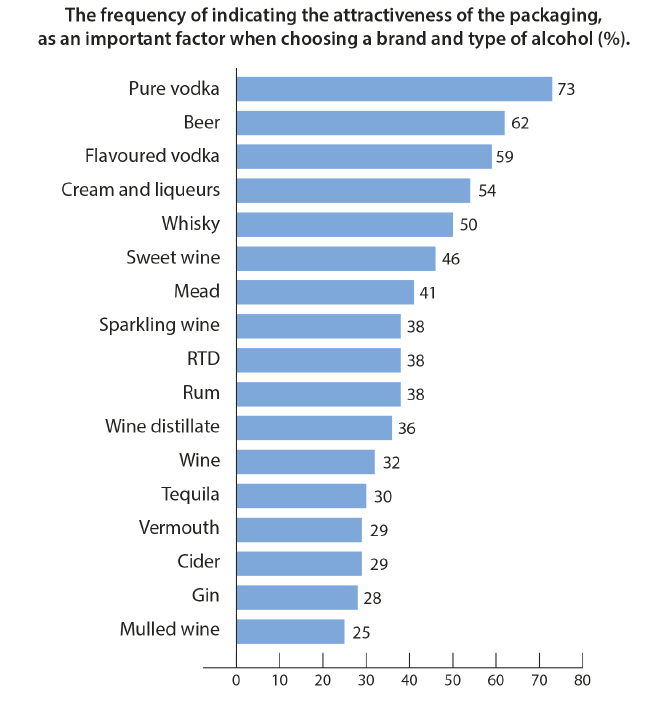 Rynki Alkoholowe 10/2021
Pure and flavoured vodkas jointly generate around 30-40% of the alcohol sale value and appear on average in every tenth transaction in small-format stores of up to 300 m2 in Poland. The number of vodka variants is growing every year; in 2021, customers can choose from around 33 variants for pure vodkas and around 55 for flavoured vodkas. Despite a smaller selection, pure vodkas have been generating higher turnover for years – just under 70% of the entire vodka category. The best-selling variant is invariably Żubrówka Biała, and Gorzka Żołądkowa Czysta or Krupnik, whereas Soplica is the leader among flavoured vodkas (it generates around 10% of the sale value of all vodkas and its most popular flavours include quince, cherry, or hazelnut).
Rynki Alkoholowe 10/2021