The analysis results of the latest survey conducted periodically by CBM Indicator show that respondents are most willing to buy alcoholic beverages in such places as supermarkets and discount stores – 52% of indications each and hypermarkets and off-licences – 50% each. A much smaller percentage of respondents indicate highly specialized stores (21%), petrol stations (20%) and on-line shops (19%). In the absence of a favourite brand, consumers usually purchase another with a similar flavour (51% of indications). One third of the respondents willingly buy another brand at a similar price. On the other hand, respondents less frequently decide to move to another store to buy their favourite brand of alcohol (14%), wait for delivery (11%), buy a cheaper brand (8%) or buy another type of alcohol (4%).
Rynki Alkoholowe 9/2020
For many years, the leader of unaided recall on cider knowledge in Poland has been Cydr Lubelski, the recognisability of which reaches 47% among respondents. RTDs are not very popular among consumers. The consumption of this type of alcohol in the last 12 months is declared by 25% of people, and only 1% of respondents indicate that they like to consume this type of drinks. Knowledge of RTD brands is quite poor among the respondents. The following famous brands of spirits are leading: Jack Daniel's, Smirnoff Ice, Bacardi, Sobieski Impress and Jim Beam.
Rynki Alkoholowe 8/2020
Of the radlers, ciders and RTDs, radlers are the best selling group in small-format stores. The most frequently purchased brands in this flavour segment are: Warka Radler, Lech Shandy and Okocim Radler. Ciders constitute only 0.1% of the alcohol sales volume in small-format stores up to 300 sqm. The best-selling variant here is the Ambra Group's Cydr Lubelski. A similar position in the ranking of spirits is occupied by RTDs. Like ciders, they account for 0.1% of the sales volume of all alcohols in small-format stores. The most important producer in this category is MBWS and its Sobieski Impress. Volume shares of this brand range from approx. 20% to 30%.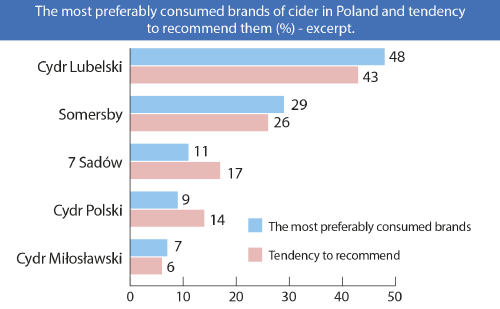 Rynki Alkoholowe 8/2020
The annual global ranking of "Millionaires Club 2019" prepared by the British magazine "Drinks International" includes 148 alcohol brands with annual sales of over a million 9-litre boxes. As many as 90 of them reported increases in sales. The list also includes 8 spirits from Poland. The top of the ranking was once again dominated by products from Asia. Once again Jinro (Hite-Jinro) brand prevails in the list, namely an alcoholic beverage from the Soju category from South Korea. We have a total of 39 brands on the list, one more than a year ago, but some companies have not submitted their sales data. Smirnoff is still the leader among vodkas. There are 8 vodka brands from Poland in the list. The best of them was the Zubrówka from CEDC portfolio.
Rynki Alkoholowe 7/2020
As the results of the latest CBM Indicator research show, beer is consumed by the vast majority of people in Poland who drink or buy alcohol (88%), and almost half of them consider beer their favourite alcoholic beverage. A vast majority (82%) of consumers declare choosing domestic beers first and foremost. Every fifth person consumes Czech beers and 15% of the respondents also prefer German.
Rynki Alkoholowe 7/2020