Cognacs and brandies have their fans in different parts of the world. However, as the results of surveys conducted by CBM Indicator show, the awareness of brands of this type of alcoholic beverages is low among Polish consumers. 23% of consumers declared that they had drunk cognacs and brandies in the last year and 14% in the last month. As shown by the results of the aided recall for cognac and brandy brands, the best known are Napoleon (50%) and Metaxa (41%). Above 20% of indications were also given to Calvados (23%), Brandy Stock and Davidoff (23% each), Henessy and Pliska (22% each).
According to CMR data, in the Easter week of 2019, the value of sales of pure vodkas increased by 30% compared to the previous week, the spending on table wine increased by 40%, while the spending on liqueurs and creams by as much as 70%. Throughout 2019, four producers were responsible for about 80% of the liquor and cream sales values in small-format stores in Poland – CEDC (with Jaegermeister, Campari and Cointreau), MBWS (Krupnik and Finezja), Diageo (Sheridan's, Baileys) and Polomos Bielsko-Biała (Advocaat, Talka). Among the brands, the leader in terms of value was Jagermeister (CEDC), which accounted for nearly 30% of sales. Krupnik Słony Karmel from MBWS was second in terms of sales value share (13% of share). The next positions were taken by Sheridan's (Diageo) and Advocaat (Polmos Bielsko-Biała).
Rynki Alkoholowe 3/2020
A detailed analysis of the results of the latest survey conducted recurrently by CBM Indicator indicates that the most popular brand among liqueurs and creams in Poland include: Advocaat Classic (10%), but also Advoccat Krupnik (10%). The others that have received more than 5% of the indications are: Baileys (8%), Sheridan's (7%), Amaretto (7%) and Beherovka (6%). Interestingly, respondents most often recommend the Krupnik Advocaat brand (12%), while Advocaat Classic is recommended by 9% of respondents.

Rynki Alkoholowe 3/2020
The first edition of the Rynki Alkoholowe monthly appeared exactly in March 1995. It is not only the oldest Polish magazine devoted to the spirits industry in a broad sense, but also a repository of knowledge and a chronicle of changes taking place in it. The first issue had 32 pages and was published in a circulation of 15 thousand.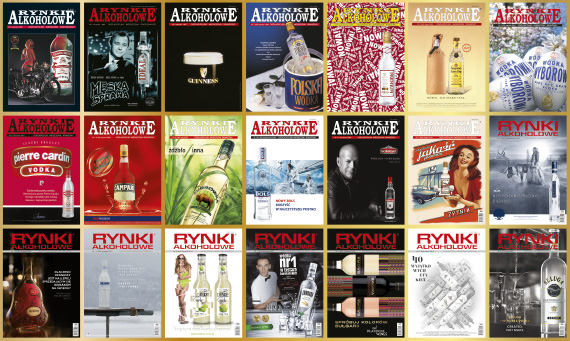 Rynki Alkoholowe 3/2020
The 14th edition of the Vodka Tasting organized by the countrywide "Rynki Alkoholowe" spirits industry monthly will take place in Toruń on Friday, May 22nd, 2020. Once again, professional as well as independent jurors will conduct blind evaluation of the submitted samples in the category of pure vodkas and in the category of flavoured vodkas and flavoured spirit products. The appearance, aroma and, above all, the flavour of a product is what matters. The winners will be awarded with medals. The editorial office of the "Rynki Alkoholowe" Monthly has been organizing the Vodka Tasting since 2006. It is the first cyclical and independent event of this kind taking place in our country. Flavoured vodkas and flavoured spirit products are also evaluated since 2014. During the Tasting in 2019, the jury proposed that the medal should also be awarded for the packaging design. We supported this idea and it is now included in the competition rules for 2020. Of course, the winner is not "blindly" chosen here. The jury will evaluate all the products submitted for packaging after the results of the tasting itself are announced.
For more information about this year's event please contact Lidia Potwardowska (Phone No 607 842 864, e-mail: Ten adres pocztowy jest chroniony przed spamowaniem. Aby go zobaczyć, konieczne jest włączenie w przeglądarce obsługi JavaScript.).
Rynki Alkoholowe 2/2020