CBM Indicator survey confirms that vodka is a category that is very well recognized. Respondents were asked to indicate the essential characteristics of pure and flavoured vodkas, which influence the purchase of a given brand. When choosing pure vodkas, respondents first of all pay attention to an attractive price (63%), and secondly to high quality (58%). Good flavour is the third most important factor for almost half of consumers. These three factors are also important for consumers of flavoured vodkas, but the order of these factors remains different. And so, for flavoured vodka enthusiasts, flavour counts first, 68% of respondents declare it. The second place is taken by high quality (63%) and the third place is taken by attractive price (58%). Every fourth consumer of pure and flavoured vodkas admits that choosing a favourite brand is a matter of habit. Another factor is the availability of alcohol, which is indicated by approximately one in five respondents.
Packaging of pure and flavoured vodkas is still an insignificant factor in the choice of brand. Only one in four consumers pays attention to the attractiveness of pure vodka packaging.
Rynki Alkoholowe 10/2019
Out of 153 alcoholic brands, there are 49 whiskies at the "Millionaire Club 2018." This result was three times worse than in the previous year. In the top ten of the ranking there were 5 brands of "golden beverage" and as many as 22 brands.
As in the previous year, the "millionaires" are headed by Jinro (Hite-Jinro) brand, an alcoholic beverage from the South Korean soju category. The second place belongs to the Indian whisky Officer's Choice (Allied Blenders & Distillers). Interestingly, the next three places in the group of "golden liquors" are also taken by products from India – McDowell's No.1 (Diageo/United Spirits), Imperial Blue (Pernod Ricard) and Royal Stag (Pernod Ricard). In fact, we have 17 brands from India on the list, but it should be remembered that these products do not meet the requirements of the European definition of whisky.
Johnnie Walker (Diageo/United Spirits) from Scotland is in fifth place only. There is a total of 21 drinks from Scotland, but there are many indications that next year they will be joined by The Macallan (Highland Distillers). The sixth-on-the-list Jack Daniel's (Brown-Forman) is the best among American whisky. In total, we have 5 brands from the United States. Canada has added 3 products to the list. The strongest brand (Diageo) among the Canadian "water of life" is Crown Royal (Diageo). There are still 2 more products from Ireland and Japan. Here, the best performers on the market are, respectively, Jameson (Pernod Ricard) and Suntory Kakubin (Beam Suntory).
Rynki Alkoholowe 9/2019
According to the latest survey conducted cyclically by CBM Indicator, Scotch whiskies are the most recognizable by Polish consumers. The most recognizable brand in the latest survey is Johnnie Walker, who maintained his leading position in relation to the previous survey. Johnnie Walker is spontaneously indicated by 47% of respondents. In the assisted recall, however, the result reaches 68%.
Rynki Alkoholowe 9/2019
Whisky sales in small format stores were dominated by four main brands: Ballantine's (Pernod Ricard), Jack Daniel's (Brown-Forman), Johnnie Walker (Diageo) and Grant's (CEDC), which accounted for almost 70% of category turnover in 2018. In the discussed period, customers of small-format stores most often used Ballantine's Finest 700 ml and Jack Daniel's 700 ml whisky.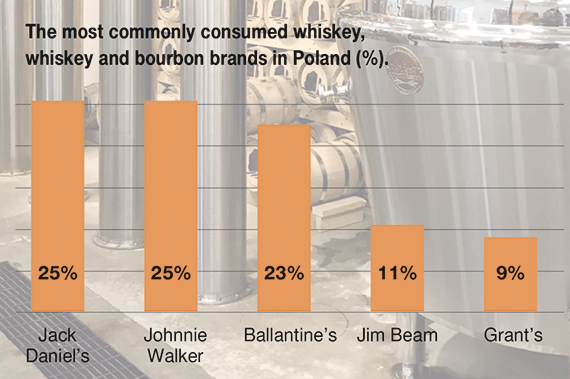 Rynki Alkoholowe 9/2019
Lighter and flavoured beer variants have been a hit in small-format shops in recent years. This is clearly visible in the offer range as such products take up almost 1/3 of the shelf space and in beer fridges. In June 2019, customers looking for beers with reduced alcohol content or flavoured additives had a choice of over 35 variants, most of which were Radlers, i.e. beer blends with other beverages.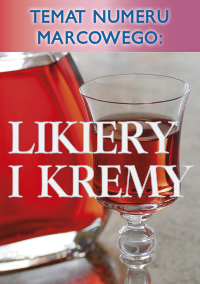 ---