Discount stores and supermarkets remain the most popular places to buy spirits, including niche spirits. Whether they are niche or popular drinks, most consumers do not attach themselves to a single brand, but prefer to have one or more alternative brands. At the same time, the more niche the beverage is among the general consumer, the more loyal its connoisseurs are. Almost a third of cider consumers indicate that they consumed less cider in 2020 than in previous years. There are similar changes in consumption for mulled wines and meads. Almost 1/4 of connoisseurs of these niche beverages reduced their consumption in 2020.
Rynki Alkoholowe 1/2021
Spirits generate about 25% of the total sales value in small-format stores up to 300 m2. In the carnival season we can find meads in only about 3% of small-format stores. More than 50% of the brands that appear on receipts come from Apis. Liqueurs belong to a slightly more popular category in the small format. The most important producer here is Henkell Freixenet Polska with its best-known brand – Nalewka Babuni. The distribution of this product, as well as meads during the carnival period, reaches about 3%. Mulled wines at the carnival reach around 0.1% of the sales value of all spirits. The most important brand in this category is undoubtedly Grzaniec Galicyjski from JNT Group.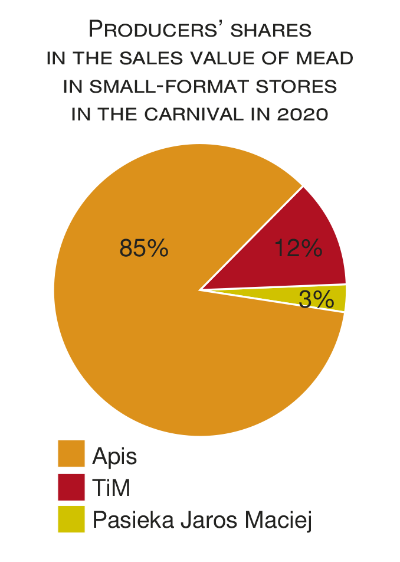 Rynki Alkoholowe 1/2021
Sparkling wines and champagnes account for about 0.5% of the sales value of all alcohols in small-format stores up to 300 m2. This trend has continued for 11 months of the year, and in December it almost quadrupled – the value shares then represent almost 2% of all alcohol sales (1.8% in December 2019). This is the only category among alcohols that reaches almost 25% of annual sales in one month. In the week with New Year's Eve, sparkling wines and champagnes appear on about 5% of all alcohol transactions (4.8% in the week with New Year's Eve in 2018, 5.4% in 2019). The brands that achieve the highest sales value per year are Dorato and Piccolo (a non-alcoholic drink for children) from Amber, as well as Soviet Igristoje from Bartex.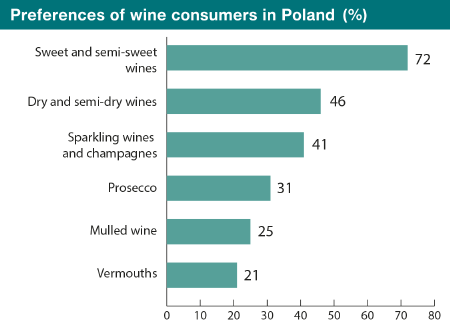 Rynki Alkoholowe 12/2020
Poles still know little about the difference between sparkling wine and champagne. Knowledge of sparkling wines remains at a similar level as in previous years. The best known brand is Dorato, which 15% of respondents spontaneously mentions as the first (Top of Mind). Cin&Cin is in second place, mentioned by 12% of respondents. The best recognized brands of sparkling wines also include: Sowietskoje Igristoje (6%), Martini Prosecco and Carlo Rossi (3% each) and Michelangelo (2% of indications). The majority (62%) of consumers of sparkling wines and champagnes are not limited to one type of alcohol, but prefer products of several other brands that share common characteristics (most often they are: price, quality and flavour). Every fifth person during the survey stated that they usually buy the brand that is sold on the most favourable terms (sales, discounts).
Rynki Alkoholowe 12/2020
Every second inhabitant of Poland drinks wine. Among drinkers, 51% of people declare their consumption regardless of the season, and 25% drink them exceptionally during the New Year's Eve and carnival season. Consumers on the Polish market prefer sweet and semi-sweet wines (72% of respondents). Dry and semi-dry wines, on the other hand, are in second place (46%). Sparkling wines and champagnes are in third place with 41%. The most common consumers of wines are women, people aged 30-39 and residents of medium-sized cities with a population of up to 20 thousand. Among the most recommended brands, the leaders are Carlo Rossi and Kadarka brands, which received 75% and 64% of responses.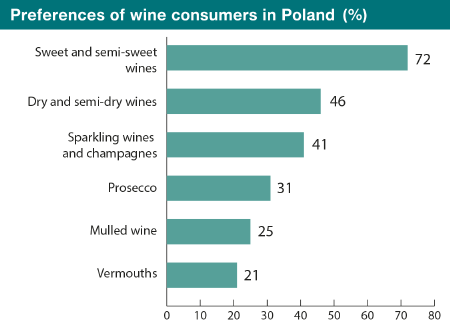 Rynki Alkoholowe 11/2020