A recent CBM Indicator survey indicates that 0.5 l or 0.7 l liqueurs and crème liqueurs are most commonly purchased. Only 7% of consumers say they usually buy a 1 l bottle. When asked about the price they are ready to spend on their favourite products from the liqueur and crème liqueur category, respondents admitted that they most often buy alcohol products from this group that cost 20-40 PLN (44% of indications). Only 23% of liqueurs and crème liqueurs connoisseurs buy alcohol more expensive than PLN 60.
Rynki Alkoholowe 3/2021
Sale of all alcoholic beverages in small-format stores up to 300 m2. We can find liquor of this type in almost all small format stores, the numeric distribution of this category is 80-90%. The most popular among liqueurs are the products of CEDC, MBWS and Polmos Bielsko-Biała, it is the brands of these producers that are most popular, but also the most available in small format: Jägermeister, Krupnik Słony Karmel and Advocaat. The most popular volume is usually 500 ml, although in the case of Jägermeister the 100 ml volume appeared most often on the receipts, which may indicate that consumers treat it more as a flavoured vodka than a liqueur. In 2020, the number of Jägermeister bottles sold in small format increased by around 4% compared to 2019. However, it was Krupnik Słony Karmel that was the most frequently appearing on receipts in 2020 – a 500ml bottle of Słony Karmel was on receipts in small-format stores more than 600,000 times, which was, however, around 15% lower than the year before.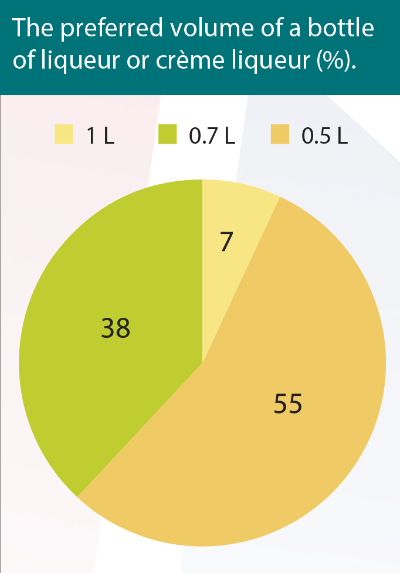 Rynki Alkoholowe 3/2021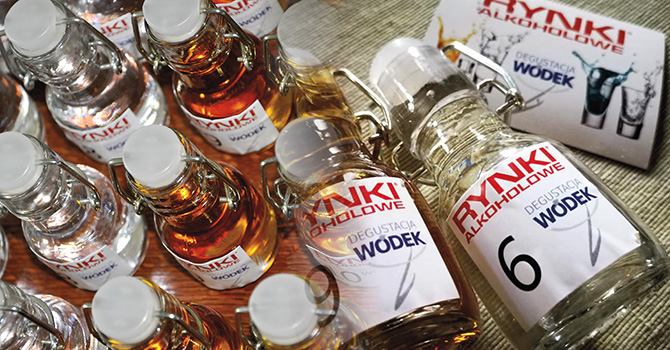 The 15th edition of the Vodka Tasting organised by the nationwide industry monthly "Rynki Alkoholowe" has been scheduled for the second half of May 2021. Once again, professional as well as independent jurors will conduct blind evaluation of the submitted samples in the category of pure vodkas and in the category of flavoured vodkas and flavoured spirit products. It is possible that spirits will also have a new category assessed this time, but this depends on the number of products submitted. There will certainly be additional competition in the Packaging Design category. Of course, the choice of winner here is not made "blindly." The jury will evaluate all the products submitted for packaging after the results of the tasting itself are announced. It is therefore possible that one product will even receive two awards. The winners of the tasting will traditionally be awarded medals. For more information about this year's event please contact Lidia Potwardowska (Phone No 607 842 864),
e-mail: Ten adres pocztowy jest chroniony przed spamowaniem. Aby go zobaczyć, konieczne jest włączenie w przeglądarce obsługi JavaScript.).
Rynki Alkoholowe 2/2021
Vodka is the second most important alcohol category in small-format stores up to 300 m2. Products from this category appear on average on every tenth receipt, generate approx. 8% of the total sales value in this type of stores and approx. 40% of the sale value of alcohols (of which approx. 25% are pure vodkas). Sales volume growth was significantly reduced in 2020 due to the prevailing coronavirus pandemic.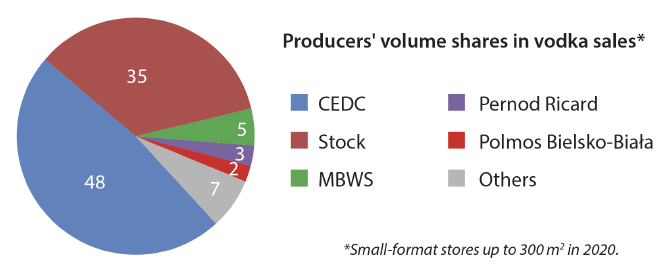 Rynki Alkoholowe 2/2021
The vast majority of consumers (85%) admit that they prefer pure vodkas, while 63% of respondents say they choose quality vodkas more often than other types. Among the flavours preferred by consumers, the 2 most popular can be distinguished: cherry and lemon. Consumers most often buy vodkas to celebrate meetings with friends (40% of indications) or family celebrations (25%). Around 15% of people buy vodkas for personal consumption and 9% make a purchase for no particular reason. The survey results also show few changes in vodka consumption among consumers during the COVID-19 pandemic.
Rynki Alkoholowe 2/2021