Wines are quite popular among Poles. They account for approx. 5% of the liquor market value sales in small-format shops up to 300 m2. The most common selling brands are: Carlo Rossi, Fresco and Kadarka. Currently, a customer of a small-format store can choose from an average of 30 variants. Poles usually buy one bottle of wine per transaction and spend about PLN 20 on it. These are mostly standard volumes of 750 ml or 1000 ml, which together account for over 97% of the wine sales volume.
Rynki Alkoholowe 11/2020
Vodka is one of the most frequently chosen alcohol by Poles, ranking second on the podium, right behind the beer. On average, every fourth alcohol purchaser in a small-format store up to 300 m2 puts vodka in the basket. As a result, the category generates more than 8% of the turnover of such stores. A customer can choose from an average of almost 90 variants in a small format store. Vodkas in the smallest volumes are most often purchased. Almost half of the customers of small-format stores decide to buy 90/100 ml bottles and approx. 30% of customers buy 200 ml. In total, small bottles generate approx. 45% of the sales volume. The most popular variants of vodka in small bottles belong to such brands as: Żubrówka Biała, Żytniówka Czysta, Żubr Strong or Cytrynówka Lubelska. In the case of larger volumes, 0.5-litre bottles are most often bought by about 1/5 of customers going to small format shops for this product. The most popular larger bottle variant among Poles is Żubrówka Biała 500 ml, responsible for as much as approx. 14% of the category's sales volume.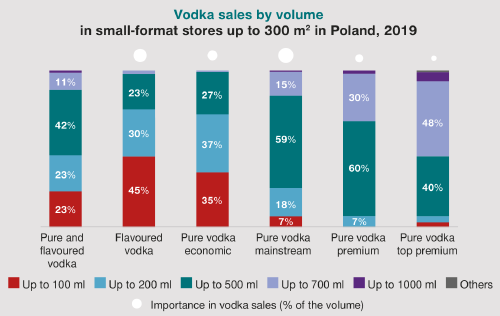 Rynki Alkoholowe 10/2020
Analyses of the most recent surveys show that almost half of the Poles surveyed declared that they had consumed pure vodkas over the past month. On the other hand, the consumption of flavoured vodkas at that time was confirmed by 38% of the respondents. The most popular brand of pure vodkas is Finland, indicated by 27% of consumers. It is also the brand that consumers are most willing to recommend to others (more than 1/3 of indications). The preferences of flavoured vodka consumers are similar. The most popular brands are Soplica (26%) and Finland (22%). On the other hand, Finland is the most recommended brand, chosen by 32% of respondents. Soplica is in second place with 24%.
Rynki Alkoholowe 10/2020
The category of whisky and bourbon in small-format stores up to 300 m2 accounts for about 0.3% of all alcohol sales by volume. Due to fairly high average prices for packaging (compared to, for example, vodka), it generates approx. 3% of the sales value. The best seller is invariably the 700 ml packaging (about 50% of whisky transactions). The 200-ml packaging has also been gaining in importance since 2018. The largest share by value in the sale of whisky and bourbon is recorded by Pernod Ricard. The most important of its brands, Ballantine's, is also the best-selling brand among whisky and bourbons both in terms of sales value and number of transactions. The second most purchased brand is Jack Daniel's from Brown-Forman. Pernod Ricard also leads the competition with the widest range of products – in the first half of 2020, they offered about 3.5 variants per store, other manufacturers offer about 2 variants.
Rynki Alkoholowe 9/2020
The analysis results of the latest survey conducted periodically by CBM Indicator show that respondents are most willing to buy alcoholic beverages in such places as supermarkets and discount stores – 52% of indications each and hypermarkets and off-licences – 50% each. A much smaller percentage of respondents indicate highly specialized stores (21%), petrol stations (20%) and on-line shops (19%). In the absence of a favourite brand, consumers usually purchase another with a similar flavour (51% of indications). One third of the respondents willingly buy another brand at a similar price. On the other hand, respondents less frequently decide to move to another store to buy their favourite brand of alcohol (14%), wait for delivery (11%), buy a cheaper brand (8%) or buy another type of alcohol (4%).
Rynki Alkoholowe 9/2020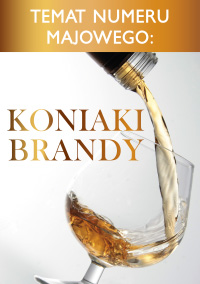 ---