The leading sales channel for alcohol among retail shops in Poland are small-format stores of up to 300 m2. They account for around 90% of the turnover of all alcohol sales. Sales of radlers and flavoured beers in the first half of 2021 are around 5-10% of the sales volume of all beers, with the largest shares of sales in this category during the summer months. The most frequently appearing products in this category on receipts include: Desperados (standard variant – Tequila, Red and Mojito), Garage (Hard Lemon and Kamikaze), and Karmi or Somersby brand products. Flavoured beers and radlers are available in more than 90% of retail shops.
Ambra is the leader in cider sales – this producer's share in the sales value of all ciders in the panel of retail shops, depending on the month, ranges between 70-80%, and the brand which builds these sales on its own is Cider Lubelski (almost 80% of the sale value of all ciders).
Small-format stores account for the largest share of RTD sales – around 90% of the sales value from all retail shops. The most popular RTDs in this sales channel are Jack Daniel's & Cola and Jim Beam Cola in 330 ml cans.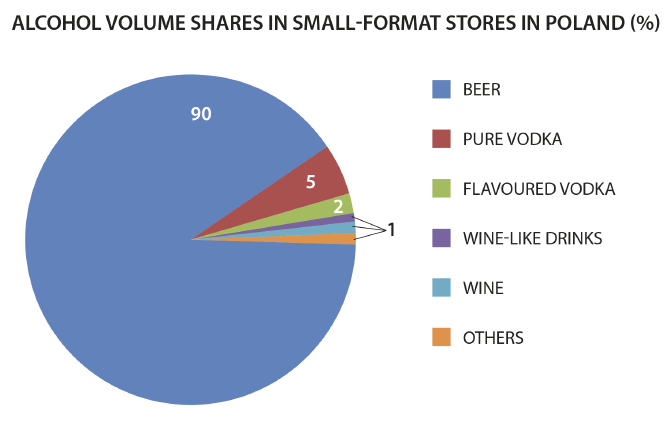 Rynki Alkoholowe 8/2021