According to the CBM Indicator survey, Polish consumers of wine distillates most frequently consume brandy of various types (53%). In contrast, 47% of connoisseurs of this type of alcohol prefer cognacs. Almost half of those who say they consume wine distillates say they pay attention to the brand manufacturer before buying. Of these, 45% buy imported brands and only 13% go for domestic brands. Whereas, more than 40% of consumers taking part in the survey admit to not being able to identify where the brand they buy is produced.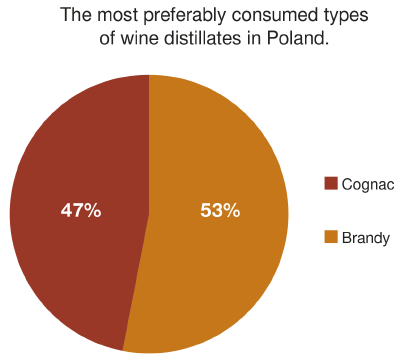 Rynki Alkoholowe 5/2021
Brandies and cognacs are often bought as gifts for special events, and the limited number of social gatherings contributed to the fact that the category, which recorded year-on-year increases in terms of sales, marked a decline in the number of packagings sold by more than 5% in 2020 compared to 2019. Among the brandies most favoured by Poles are Pliska and Słoneczny Brzeg, owned by Ambra. These Bulgarian spirits account for about 50% of the category's turnover and tempt their customers with attractive prices. They are also the most widely available, being found in 65% and 30% respectively at stores selling this category.
Rynki Alkoholowe 5/2021
Gins, rums and tequilas still remain niche spirits in Poland. Their consumption is declared by only a few percent of alcohol consumers. The popularity test of these spirits shows higher popularity rates only for a few of the most popular brands. Gin Lubuski is best known in our country. In an aided recall, around 50% of consumers say they have heard of it. The product also wins in an unaided recall. Gordon's Gin was second in this category, but in this case the number of both unaided and aided indications was almost 4 times lower. Among all tequila brands, the respondents most often showed familiarity with Sierra – the name was familiar to every fourth alcohol consumer. The Olmeca and Sombrero brands received almost half as many indications in the aided recall and as much as four times less in the unaided recall. In contrast, Malibu, a rum-based drink flavoured with coconut milk, was the most popular rum among the participants in the recent survey.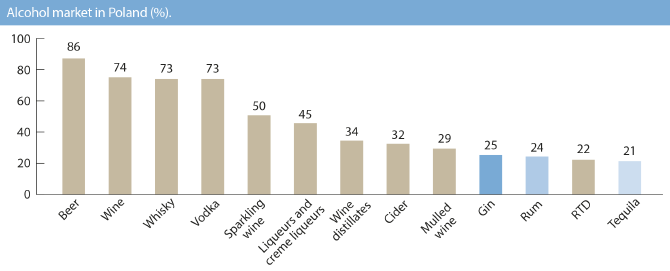 Rynki Alkoholowe 4/2021
Both gin and rum achieve monthly value shares of around 0.2% each in the sale of all spirits in small-format stores up to 300 m2. Tequila is an even smaller category – its share of spirits sales value is only about 0.03%. This is mainly due to the availability of this type of liquor – gin and rum can be found in about 40% of small-format stores, while tequila can be found in only about 10% of stores. Consumers in small stores don't have much choice here either, with an average of 2 gin and rum variants per stores and 1 tequila variant.
Rynki Alkoholowe 4/2021
KPMG published the 11th edition of the "Rynek dóbr luksusowych w Polsce" (Luxury goods market in Poland) report. Alcohols are of course described separately here. Over the last 5 years, until 2019, the luxury spirits segment had grown the fastest of all market categories. The increase in sales value averaged 8.8% per year. In 2020, however, the economic situation related to the pandemic had a negative impact on sales, resulting in a decrease of 190 million compared to 2019 to a value of approximately PLN 1.1 billion. Despite this, the projected average annual growth in the value of luxury spirits sales between 2020 and 2025 is 5.2%. The market is expected to reach its pre-pandemic value as early as 2023.
Rynki Alkoholowe 4/2021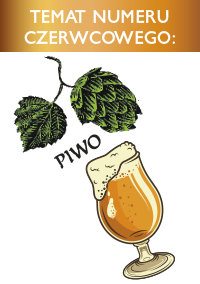 ---