Packaging design appeal is more important to consumers of pure vodkas. The role of packaging in the consumer decision-making process is growing every year. Consumers of pure vodkas pay most attention to the packaging's attractiveness Out of the vodka drinkers, 73% decide to choose a brand inspired by this factor. In the case of flavoured vodkas, the percentage of indications is visibly lower (59%). Consumers of this type of alcohol are primarily guided by flavour and quality, while packaging determines the purchase to a slightly lesser extent.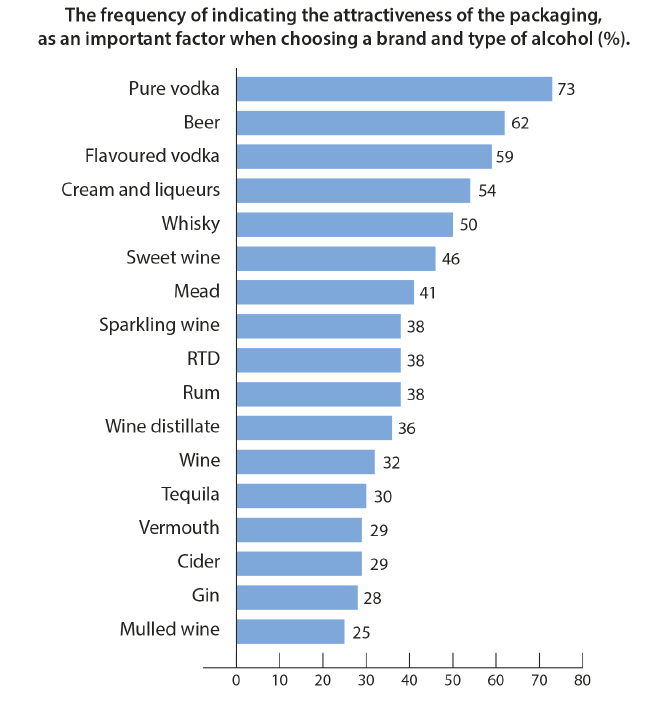 Rynki Alkoholowe 10/2021
Pure and flavoured vodkas jointly generate around 30-40% of the alcohol sale value and appear on average in every tenth transaction in small-format stores of up to 300 m2 in Poland. The number of vodka variants is growing every year; in 2021, customers can choose from around 33 variants for pure vodkas and around 55 for flavoured vodkas. Despite a smaller selection, pure vodkas have been generating higher turnover for years – just under 70% of the entire vodka category. The best-selling variant is invariably Żubrówka Biała, and Gorzka Żołądkowa Czysta or Krupnik, whereas Soplica is the leader among flavoured vodkas (it generates around 10% of the sale value of all vodkas and its most popular flavours include quince, cherry, or hazelnut).
Rynki Alkoholowe 10/2021
More than half (53%) of whisky consumers in Poland belong to the Rotators group, i.e. those who buy different brands with similar traits, such as flavour, quality and price. Deal Sensitives are another large group (23%), i.e. people who buy brands, sold on the most favourable terms. Long Loyals account for 21% of all consumers. Such people are most attached to one brand of beverage and are rarely willing to buy the products of other companies, even when the price of their favourite brand increases or is not available at the place of purchase. The smallest group in the survey of whisky drinkers are Price Sensitives (2%), i. e. those who tend to buy the cheapest brands.
Rynki Alkoholowe 9/2021
The category of whisky and bourbon in small format stores up to 300 m2 accounts for about 0.3% of all alcohol sales by volume. Due to high average prices for packaging (compared to, for example, vodka), it generates approx. 3% of the sales value. The largest value share among manufacturers in H1 2021 was achieved by Pernod Ricard, very much like last year. Brown-Forman, CEDC and Diageo were next in line. The top five brands with the highest turnover were: Ballantine's, Jack Daniel's, Johnnie Walker, Grant's and Jim Beam. The most purchased SKU in small format – unchanged since 2020 – is Ballantine's Finest in a 700 ml bottle. Small format stores also boast a good number of whisky and bourbon variants on shelves – in H1 2021, customers could choose from an average of 10 variants.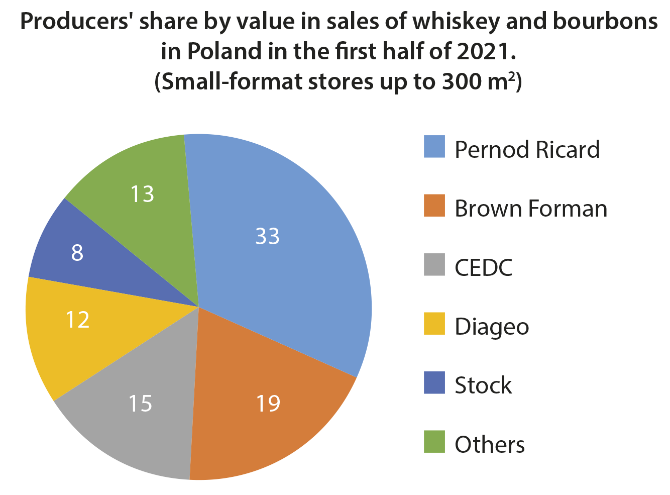 Rynki Alkoholowe 9/2021
The leading sales channel for alcohol among retail shops in Poland are small-format stores of up to 300 m2. They account for around 90% of the turnover of all alcohol sales. Sales of radlers and flavoured beers in the first half of 2021 are around 5-10% of the sales volume of all beers, with the largest shares of sales in this category during the summer months. The most frequently appearing products in this category on receipts include: Desperados (standard variant – Tequila, Red and Mojito), Garage (Hard Lemon and Kamikaze), and Karmi or Somersby brand products. Flavoured beers and radlers are available in more than 90% of retail shops.
Ambra is the leader in cider sales – this producer's share in the sales value of all ciders in the panel of retail shops, depending on the month, ranges between 70-80%, and the brand which builds these sales on its own is Cider Lubelski (almost 80% of the sale value of all ciders).
Small-format stores account for the largest share of RTD sales – around 90% of the sales value from all retail shops. The most popular RTDs in this sales channel are Jack Daniel's & Cola and Jim Beam Cola in 330 ml cans.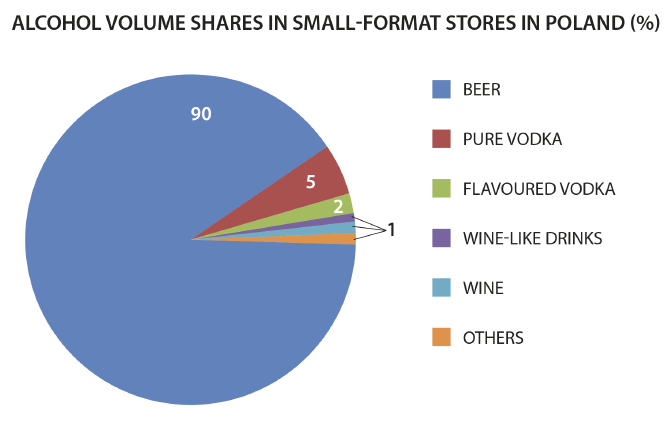 Rynki Alkoholowe 8/2021