The 15th Vodka Tasting organised by the "Rynki Alkoholowe" monthly, like last year, was also conducted remotely. Most importantly, however, this did not affect the choices or decisions of the jurors, who awarded a record number of medals. The biggest competition was in the category of pure vodkas priced up to 40 zlotys per 0.5 l. In the end, Hlibny Dar vodka (Bayadera Group, distributor in Poland: BJC Dictribution Sp. z o.o.) became the winner in this category. In the category of pure vodkas priced above 40 zlotys per 0.5 l, the market novelty Drvahl Vodka (Pravda S.A.) turned out to be the best. Retman Strong vodka with 50% alcohol content (Toruńskie Wódki Gatunkowe), competing in the price category above 40 zlotys per 0.5 litres, was also awarded a medal for its high score among the remaining pure vodkas participating in the competition.
Beers form a segment of the alcohol market with high awareness among people who drink or buy alcohol. The level of rootedness of brands in the minds of respondents is one of the indicators describing a given market. A survey conducted by CBM Indicator confirms that more than a dozen different beer brands are very well recognised among at least half of those who buy and drink alcohol. Domestic beers with a long presence in the market, such as Żywiec, Tyskie, Lech, Okocim or Warka are known to the vast majority of respondents.
Rynki Alkoholowe 6/2021
Small-format stores up to 300 m2 achieve the highest sales value on sales of alcohol, tobacco products, beverages or sweets. Among alcohols, it is beer that generates the highest turnover – approx. 50% of the sale value of alcohols and approx. 12% of the total sale value.
The most important and largest producer among beers is Kompania Piwowarska, the products of which generate more than 1/3 of turnover from sales of all beers in the small format. The top 3 also include Grupa Żywiec and Carlsberg. The most popular brand among consumers of the golden beverage is Żubr. Customers often also reach for Tyskie, Harnaś, Tatra or Lech.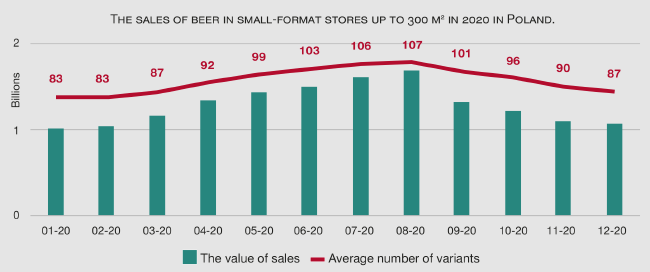 Rynki Alkoholowe 6/2021
According to the CBM Indicator survey, Polish consumers of wine distillates most frequently consume brandy of various types (53%). In contrast, 47% of connoisseurs of this type of alcohol prefer cognacs. Almost half of those who say they consume wine distillates say they pay attention to the brand manufacturer before buying. Of these, 45% buy imported brands and only 13% go for domestic brands. Whereas, more than 40% of consumers taking part in the survey admit to not being able to identify where the brand they buy is produced.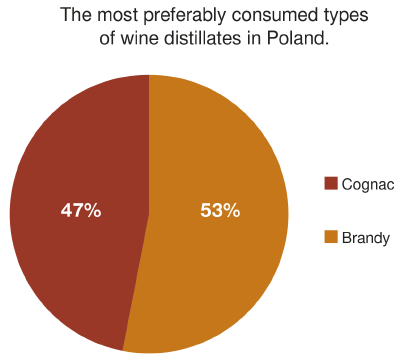 Rynki Alkoholowe 5/2021
Brandies and cognacs are often bought as gifts for special events, and the limited number of social gatherings contributed to the fact that the category, which recorded year-on-year increases in terms of sales, marked a decline in the number of packagings sold by more than 5% in 2020 compared to 2019. Among the brandies most favoured by Poles are Pliska and Słoneczny Brzeg, owned by Ambra. These Bulgarian spirits account for about 50% of the category's turnover and tempt their customers with attractive prices. They are also the most widely available, being found in 65% and 30% respectively at stores selling this category.
Rynki Alkoholowe 5/2021