In November 2021, a representative group of adult Poles were interviewed on-line (CAWI) on the SW Panel. The responses were used as the basis for a report prepared by SW Research. Pure vodka is chosen by 25.5% of respondents to celebrate important events. At the same time, 43.1% of respondents declare that they gift Polish vodka to their friends abroad (the best gift). As many as 43.8% of respondents are aware that there is a definition for Polish Vodka, but only 12.3% of those taking part in the survey know it. Only 21.7% of Poles associate Polish Vodka with Protected Geographical Indication.
Rynki Alkoholowe 2/2022
In Q4 2021, for small-format stores up to 300 m2, vodka was the third most valuable category (over 9% of total sales), appearing on every tenth receipt. Pure vodkas still account for 69% of the volume sold and flavoured vodkas 31%. The most popular pure vodka brands in Polish small-format stores are: Żubrówka Biała (CEDC), Żołądkowa Gorzka Czysta de Luxe (Stock) and Żubr (Stock), while among flavoured vodkas the top spot is taken by Żołądkowa Gorzka (Stock), Cytrynówka Lubelska (Stock) and Soplica Pigwowa (CEDC).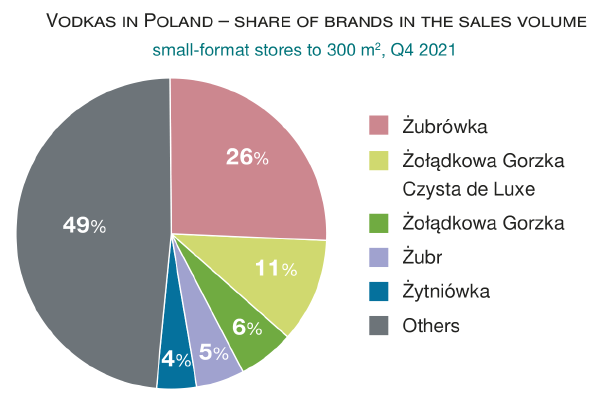 Rynki Alkoholowe 2/2022
The Brewers of Europe, the international association of the largest brewing organisations of the EU Member States (plus the UK, Norway, Switzerland and Turkey) has produced statistics summarising the situation in the beer industry in 2020.
A total of about 387,862 thousand hectolitres of beer was produced in the area of the mentioned Member States in 2020. The earliest data from the reports dates back to 2003, until now there has not been a poorer result... Suffice it to mention that 2018 saw the production of approximately 420,167 thousand hectolitres in the survey area and in 2019 – approximately 416 583 thousand hectolitres. The decline is therefore pronounced.
Germany is still the production leader here with 87,027 thousand hectolitres. Poland remains in second place with 39 066 thousand hectolitres. Spain retained its third position. The result of the country from the Iberian Peninsula is 34,692 thousand hectolitres. However, it is worth adding here that the Spaniards also take non-alcoholic beer and radlers into account in their statistics.
Rynki Alkoholowe 1/2022
Sales of mulled wine in Poland have been highly concentrated for many years. The most popular mulled wine brand for years has been Grzaniec Galicyjski – a brand of JNT Group, which also has another popular mulled wine on offer – Zbójeckie Grzane – thus positioning this producer as the leader in the mulled wine segment. In December 2020, it was responsible for nearly 80% of the value shares in small-format shops, and its products were available in 90% of stores selling mulled wine. Other important players were Mix and Henkell Freixenet Polska (in the analysed period, they reached respectively approx. 10% and 2% value shares in the mulled wine market, while the distribution of both of them was much narrower – not exceeding 25%).
Rynki Alkoholowe 1/2022
The CBM Indicator survey shows that the most popular type of sparkling wine in Poland is Prosecco. Its consumption is declared by 73% of respondents in the survey. The most popular buying occasion for sparkling wines are family celebrations: 28% of the respondents buy bubbly wines to celebrate gatherings with friends, while 26% of them purchase them to drink on their own. Only 6% of survey respondents say they buy these beverages as gifts. The best recognisability in the unaided recall test on the sparkling wine market in Poland is that of Martini (28%). The second most frequently mentioned and best-known brand is Dorato (22%), with Sovetskoye Igristoje and Cin&Cin coming in third (15% each). The leader of the aided recall test is the Cin&Cin brand (72%), ahead of Martini and Dorato (61% each). In addition, 40% of those questioned mentioned the brand Sovetskoye Igristoje.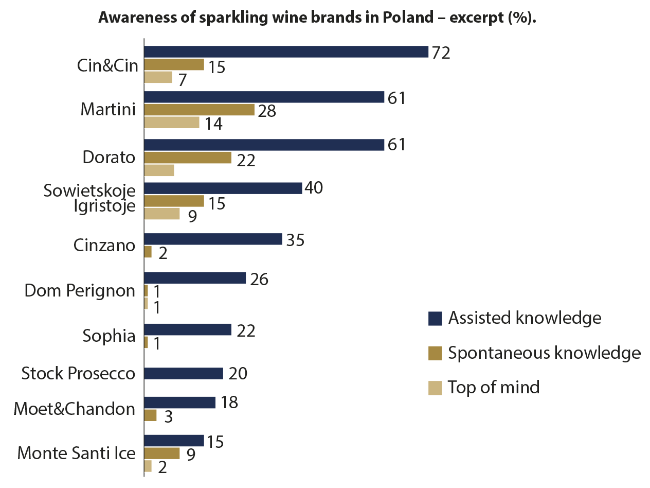 Rynki Alkoholowe 12/2021